Course content
Students on the Master's program in Astrophysics gain extensive knowledge of the development and structure of the universe and its components. In the course of the program, you will explore core areas covering the stars, stellar evolution, galaxies and cosmology, as well as a wide range of more specialized topics. Such topics include galaxy clusters and large-scale structures, interstellar and intergalactic gas, stellar winds, solar physics, cosmic magnetic fields, planetology, astroparticle physics, gravitational waves, as well as astro­nomical instrumentation, methods of observation, and computer simulations. 15 professors and further lecturers from the Astrophysics Network Potsdam teach and conduct research in all branches of modern astrophysics, enabling them to offer a particularly extensive and exciting range of courses.
The entire study program is highly research-oriented; in addition to theoretical content, you will also attend laboratory classes and conduct observations at Potsdam's practice observatory.
Structure of the degree program
The course of study, lasting four semesters, starts with a number of compulsory modules that enable you to link your scientific knowledge with the specific physical and mathematical laws of astronomical objects. You will then go on to explore more complex problem areas of astrophysics. You will complete core modules involving lectures on the topics of the stars, stellar evolution and galaxies/cosmology, as well as an accompanying laboratory class and seminar.
Later on in the program, you will additionally take an in-depth module on higher physics (e.g. theory of relativity) as well as an in-depth module involving special fields of astrophysics. Two extension modules are then taken involving methods used in astrophysical research (e.g. astronomical instruments) and supplementary areas of astrophysics (e.g. astrobiology). Before writing your Master's thesis, you will additionally take a preparatory module.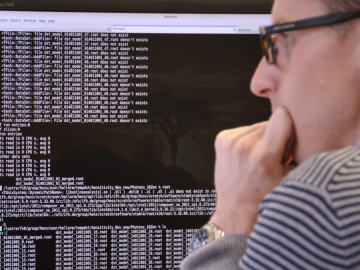 Requirements
The best requirement for studying astrophysics is having an interest in cosmic phenomena and their physical and mathematical foundations. But of course you will need more than just that – namely an undergraduate degree, usually a Bachelor degree. You should have acquired your degree in a science subject, e.g. physics, or in a mathematics subject. After all, in order to start pursing the Master of Science in Astrophysics, you will need to prove that you have earned at least 60 credits in physics or mathematics, including academic achievements in the area of astrophysics (6 credits).
And, last but not least, you will need English skills at Level C1 of the Common European Framework of Reference for Languages, because the entire program is held in English.
Applications
All those wishing to start the program from the first semester can apply to start in the summer or the winter semester. To do so, you must apply to the Univer­sity of Potsdam. You can pre-register at any time before the application deadlines. At the appropriate time, you will receive an email informing you that the application form is available.
The degree program in astrophysics is subject to restricted admission. A total of 20 places are available each year. For this reason, your application dossier must include a detailed letter of motiva­tion. It is not possible to simply enroll on the program because all of the applica­tion documents must first be reviewed and evaluated with regard to the technical requirements. Applications can only be made online via the application portal of uni.assist e.V. The portal can be accessed from April 1 (if applying for the winter semester) or from November 1 (if applying for the summer semester).
Individual specialist advisory services
Before applying, it is advisable to talk to a specialist advisor. In a personal discussion with Professor Philipp Richter, you can find out more about the schedule of studies and clarify any questions you may have. You can also learn more about the content and topics explored on the program, and the options open to you in Potsdam.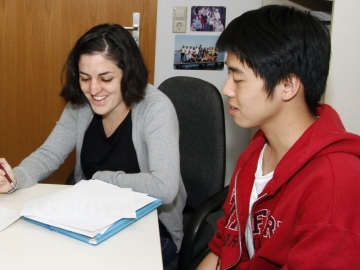 Master's theses
If you study astrophysics in Potsdam, you will have the opportunity to write your Master's thesis at one of the cooperating non-university research institutes from the network, if you wish: at the Leibniz Institute for Astrophysics Potsdam (AIP), the Deutsches Elektronen-Synchrotron (DESY) or the Max Planck Institute for Gravitational Physics (AEI). Simply choose a suitable topic and supervisor from one of the institutes. You will conduct your research project at your chosen institute – and complete your degree at the university.
The close collaboration between the network partners gives you the unique opportunity to participate directly in current research projects. You will also benefit from the outstanding infrastructure and the individual institutes' international contacts: ideal prerequisites for pursuing an academic career.